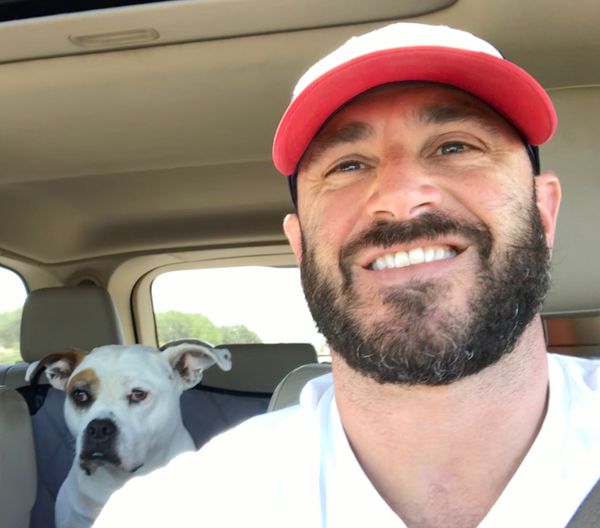 Rich & Momma Casey AKA El Gato and American Pork Chop - Black Belt Rescue Ninjas - Special Counsel to Bo and Melissa
We like to think of Rich and Momma Casey as PPDR's Strategic Swiss Army Knife. They are stealthy these two. You never know where they are going to pop up and you never know what they will be working on for the rescue. They report directly to Momma Melissa and Poppa Bo and provide project advice and input on things like website development, strategic partnerships, content editing, apparel design and development, E-Commerce, fundraising, legal, public relations, and marketing matters. They also help out with specific dog rescue cases and emergency freedom rides. But most of all... they are masters at avoiding any attempt by Bo or Melissa to get them to help settle a difference of opinion between Bo and Melissa.
Rich became interested in rescue in 2009 when a friend introduced him to her rescue dog Athena. She left Athena with Rich while she traveled to China and when she returned Rich and Athena were joined at the hip. Bound by their mutual love for Athena the two friends decided to co-parent her from that point on. Unfortunately, Athena crossed the Rainbow Bridge in 2011 at age 7. In 2012 PPDR had a very special dog in rescue in Alabama. After a few months of talk, Momma Casey boarded the Peace & Paws transport truck and made her rescue ride home to Boston where she spent her first two years out of rescue. She now calls Austin, Texas her home, where she is known at the dog park as Austin's most dedicated but least successful squirrel hunter. She is known by some as Momma or The Momma Dog, others as Casey, a few as Momma Casey and - by the enlightened masses - as Her Holiness The Dalai Momma.