Monthly DONATION
A great way to help the rescue dogs you ask? How about becoming a monthly donor?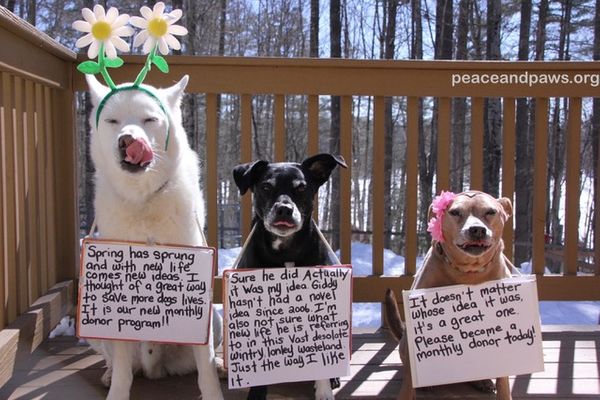 Become a MONTHLY DONOR
Our goal is to gain 2,500 monthly donors
and get this…
If we get 625 new monthly donors, we'll receive $5,000 in matching gifts from an anonymous donor.
That's .0011 % of all of our friends on Facebook.
Together, we can do this!
Your Monthly Gift Will
Provide a reliable source of support for Peace and Paws' ongoing rescue & rehabilitation work;
Continue Peace and Paws' educational efforts;
Sustain Peace and Paws' Veterinary Care Fund;
Provide funding for our critical network of foster providers, paying for all costs so they can focus on caring for the pups;
Literally save dogs' lives all year long.
Benefits Of Monthly Giving
It's flexible. You can increase, decrease, or cancel your monthly gift at any time, without obligation.
It's convenient. You sign up once, and your gift is automatically withdrawn each month on the same day. Set it and forget it.
It allows a 'smaller' gift to become a larger one over time without straining your budget.
Turn your values into action. Inspired by your love for dogs, your monthly gift is turned into practical action, supporting Peace and Paws rescue, rehabilitation, education, and advocacy work.
It makes you a friend dogs can depend on. When you stand up for rescue with your monthly gift, you make a commitment to dogs, spay/neuter education, veterinary care and more. You become a champion they can count.
It's green. You will receive only electronic communication with your monthly gift. You'll help protect the planet as you help save dogs.
Giving Amounts
No gift is too small! Whether you contribute $5, $20, or $200 a month, it all adds up to a truly meaningful commitment to our rescue dogs. Your monthly gift provides us the financial foundation we desperately need to save the lives of more dogs. All gifts are tax-deductible.
$5 a month = $60 a year pays for a critical veterinary exam for a pup to get its health certificate
$10 a month = $120 a year sponsors a pup's rescue ride to New England
$15 a month = $180 a year pays for Frontline (flea/tick preventative) and heart worm pills for 10 dogs
$20 a month = $240 a year pays for required fecals and de-wormings on all foster pups coming to PPDR
$25 a month = $300 a year pays for obedience classes for 2 dogs.
$30 a month = $360 a year pays for preventative care for 20 dogs.
$50 a month = $600 a year pays for hydrotherapy and physical therapy for our rehabilitation pups
$75 a month = $900 a year pays for food for 30 foster dogs
$100 a month = $1,200 a year would provide an often needed teeth cleaning, dental exam and X-rays
$150 a month = $1,800 a year provides for an emergency vet visit (which we have a lot of!)