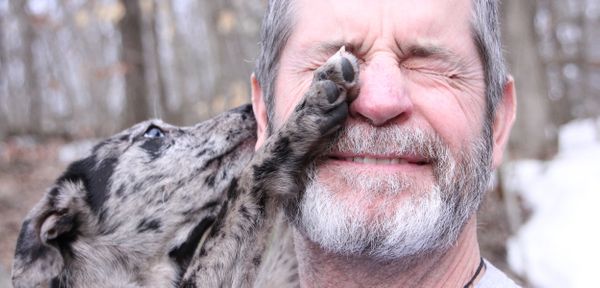 Bo Hannon AKA Poppa Bo - Dog Rescue Ninja Grand Master - Co-Founder
Legend has it that Poppa Bo Hannon is himself a ninja and is rumored to be the secret leader of the Black Dog Ninja troop. But, we can neither confirm nor deny this officially.
Over the past 10 years Bo has rescued, cared for and adopted out more than 3,500 dogs. With nothing more than a dream and a passion for helping the helpless, he took a leap of faith, quit his mechanical career and fully dedicated his life to rescuing and rehabilitating dogs in need. Bo also started his own dog transport company, Rescue Riders Transport where he safely transported thousands of dogs from the south to their new forever homes in the New England area. After 6 years of doing both transport and rescue, Bo decided to retire the transport and fully dedicate himself to the rescue dogs and their newly renovated animal shelter. Bo is the main caretaker of the rescue dogs at the Ruff House as well as boarding and daycare activities. He is also involved in the training and rehabilitation of dozens of rescue dogs with varying degrees of emotional and physical needs.
Peace and Paws Dog Rescue launched after Bo and Melissa adopted a dog of her their own from an Alabama shelter. Wanting to do more for the abandoned and unwanted southern dogs they saw during their own adoptions process, they founded Peace & Paws Dog Rescue. In addition to rescuing thousands of needy animals, Peace & Paws has built a rescue network that connects rescuers, dogs in need and adopters from all over. As a pioneer in the online rescue world Bo, Melissa and PPDR have amassed more than a half million followers on FaceBook, where Melissa and her colleagues keep friends from all around the world updated and educated by highlighting the stories and journey's of her rescue dogs.
Bo currently resides in New Hampshire with Melissa, 5 dogs, 2 foster Chihuahuas, Kirtan the cat and a turtle named Courtney.